Kids stabilizing wrist brace AM‑OSN‑U‑01
When your kid dislocated the wrist, it should rest in stabilizing kids wrist brace AM-OSN-U-01.
Product Features
| | |
| --- | --- |
| | I CLASS MEDICAL PRODUCT |
| | SKIN FRIENDLY |
| | BREATHABLE |
| | ECOLOGICAL |
| | INNOVATIVE |
| | COTTON |
| | 24/7 THERAPY |
| | CAST REPLACEMENT |
| | ANATOMIC WRIST SPLINT |
| | WRIST BRACE |
PURPOSE OF USE
wrist fractures
wrist sprain/strain
wrist dislocation
wrist inflammation
overused wrist joint
joint capsule injury
Triangular Fibrocartilage Complex (TFCC) injury
stress fracture
WHAT DOES WRIST DISLOCATION MEAN?
The injuries in the hand area are most common among kids than adults. Its connected with their high physical activity and immature pattern movement. When the wrist is dislocated, bones, ligaments, tendons, and nerves can be damaged. Pain and limited motion are visible. When your kid dislocated the wrist, it should rest in stabilizing kids wrist brace AM-OSN-U-01.
WHAT IS KIDS STABILIZING WRIST BRACE AM-OSN-U-01?
Our pediatric wrist brace AM-OSN-U-01 is designed for kids. Our brace, equipped with anatomic wrist splint and made of fabric with medical certificates, is the only one such professional product on the market. Our brace is an excellent replacement for traditional, uncomfortable cast plaster. The thumb is not immobilized and the hand maintains its grip function. From now on, your kid can play all day!
Wrist brace AM-OSN-U-01 is made of innovative fabric AirSanmed II™.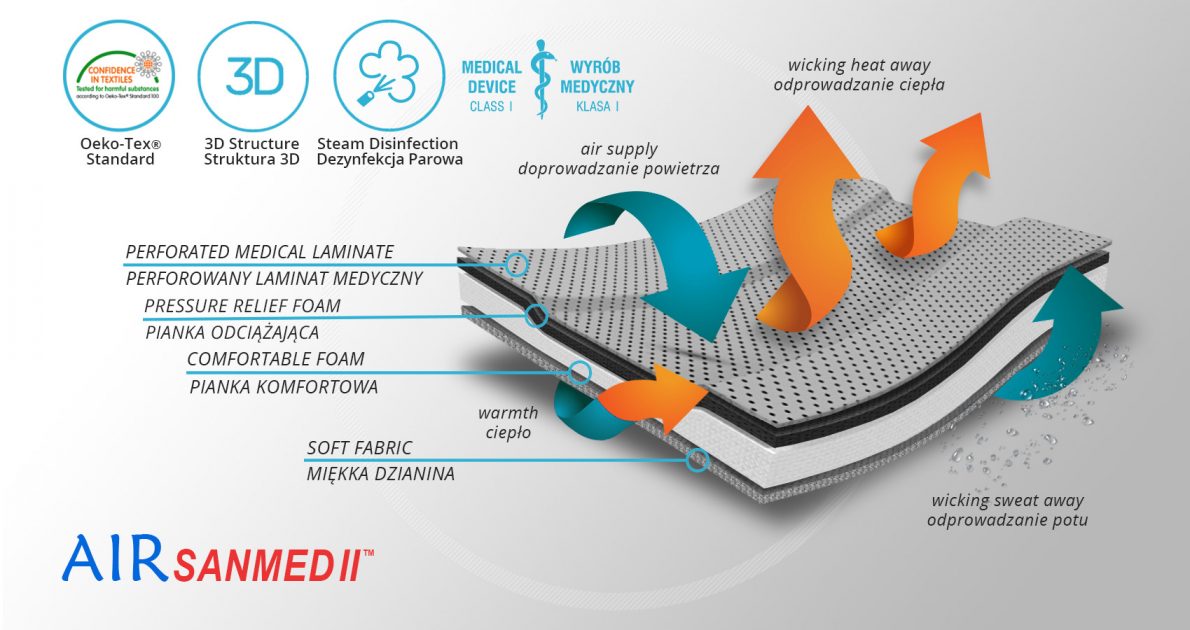 AirSanmed II™ is a multi layered intelligent orthopedic textile which is perfect for orthopedic braces production. It helps to maintain its functionality and high comfort of use. External vapour barrier is washable and possible to chemical or vapour disinfection. It is perforated and laminated with off loading foam. Due to this fact, the fabric is breathable and reduces the pressure of aluminum stays and splints. Off-loading foam is connected with soft, comfort foam improving the comfort of use. It's laminated with soft, breathable cotton with pH neutral for human's skin. This knitted cotton is certified with OekoTex Standard100 and fully skin-friendly.
ALLOWABLE DISINFECTANTS !!!
Type of active agent or surface-active agent
Maximum content in disinfectant
Spray the surface of the device with disinfectant, leave it for disinfectant's activation, then wash the device and dry it.
2-propane
35%
1-propane
25%
Ethanol
10%
Alkyl Dimethyl Benzyl Ammonium Chloride
0,2%
Glucoprotamine
25%
Aluminum splint is anatomic shaped and provides excellent stabilization. In the hand part the splint immobilizes the little carpal bones (scaphoid, lunate, triquetrum, trapezium, trapezoid, capitate and hamate bones). In the forearm part the splint immobilizes forearm bones such as radius and ulna. In addition, between the alimunium splint and skin we used one layer of AirSanmed for reducing the pressure and risk of skin's lesions.
Our pediatric wrist brace AM-OSN-U-01 has 3 circumferential straps in three important anatomical points: metacarpal joints, radiocarpal and distal radioulnar joint and interosseous membrane. This solution provides excellent stabilization in the wrist and forearm area. Each strap provides individual required level of compression.
Available sizes
Size
Wrist circumference
Typical age
How to measure
1
9 – 11 cm
2 – 6 years
2
11 – 13 cm
6 – 12 years
Right and left hand specific.
Total height of the product:
1 : 16 cm
2 : 18,5 cm
ACCESSORIES TO BE USED WITH: