Arm sling for kids OKG-07
Arm sling for kids OKG-07 is an universal size brace that can be used for both limbs.
FEATURES
| | |
| --- | --- |
| | UPPER LIMB BRACE |
| | I CLASS MEDICAL PRODUCT |
| | SKIN FRIENDLY |
| | BREATHABLE |
| | INNOVATIVE |
| | 24/7 THERAPY |
| | DOUBLE-SIDED |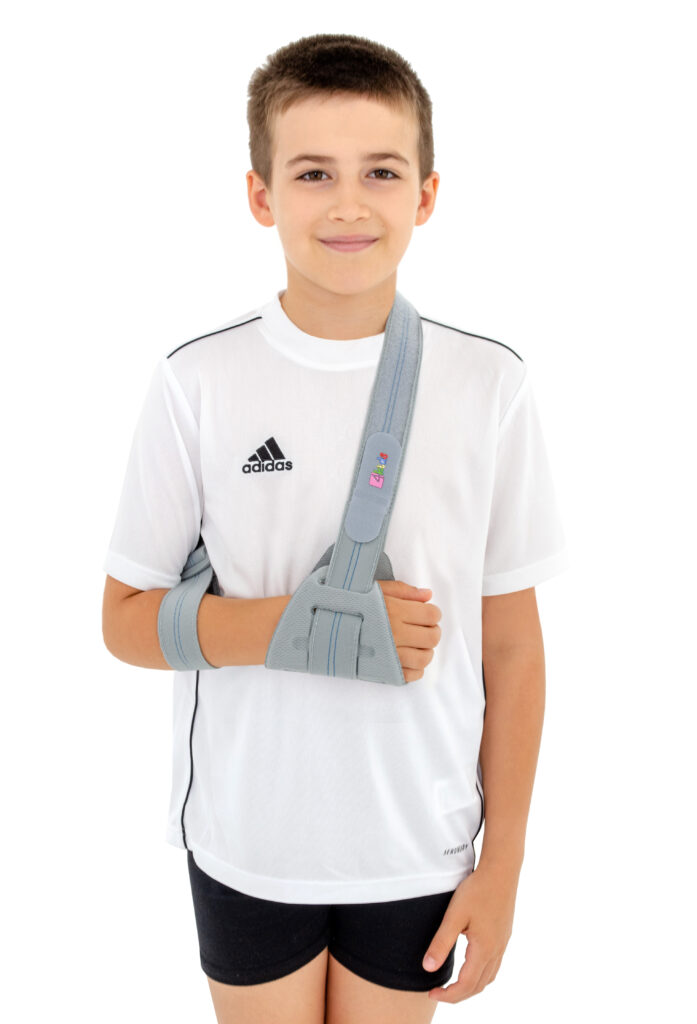 ELBOW SPRAIN
When a child exceeds the physiological range of motion of a joint, a sprain can occur. A sudden stretching or twisting of a ligament causes a sprain. Almost all types of physical activity may result in elbow sprain: running, jumping or playing on the playground. This injury can happen when a child falls or suffers a hit to the body. The main symptoms of elbow sprain include pain, swelling and limited mobility. Initial treatment for an elbow sprain includes rest, ice and elevation. Also, the elbow should be immobilized in professional arm sling for kids OKG-07.
PURPOSE OF USE
elbow sprain / strain
elbow dislocation
elbow fracture
after surgery immobilization
rotator cuff injuries
shoulder dislocations
frozen shoulder
Product's description
Arm sling for kids OKG-07 is a professional medical device for upper extremity immobilization. Made of high quality lightweight materials, offers stabilization in case of elbow sprain.
Active3D™.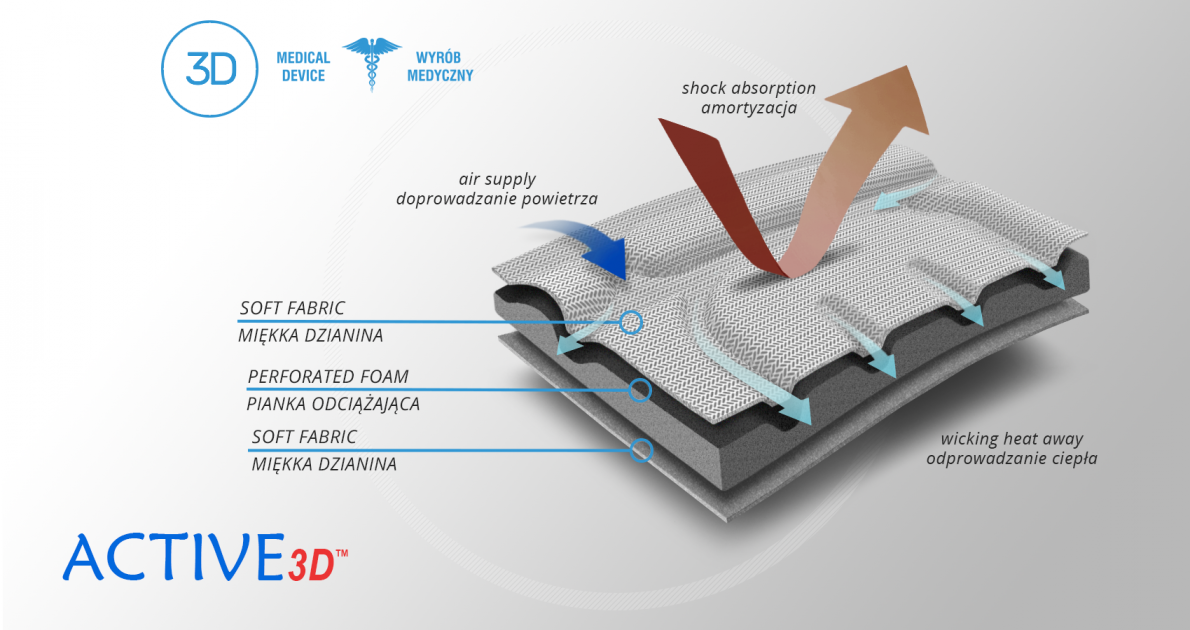 Active3D™ is thermoformed fabric made of special foamed, cell-closed designed material. It reduces the pressure on the body or any abrasions made by orthopaedic stays and aluminum splints. It is fully waterproof fabric and does not absorb sweat. It's easy to clean. Due to its features, the fabric is an excellent product for making medical orthopaedic braces and orthoses. ACTIVE 3D™ has various external self-gripping layers. Our material has special, thermoformed properties and may be shaped according to the functional goals of the final braces.
Straps of the upper extremity brace OKG-07 are made of special, hook and loop fabric SoftComfort™ offering full range of adjustment.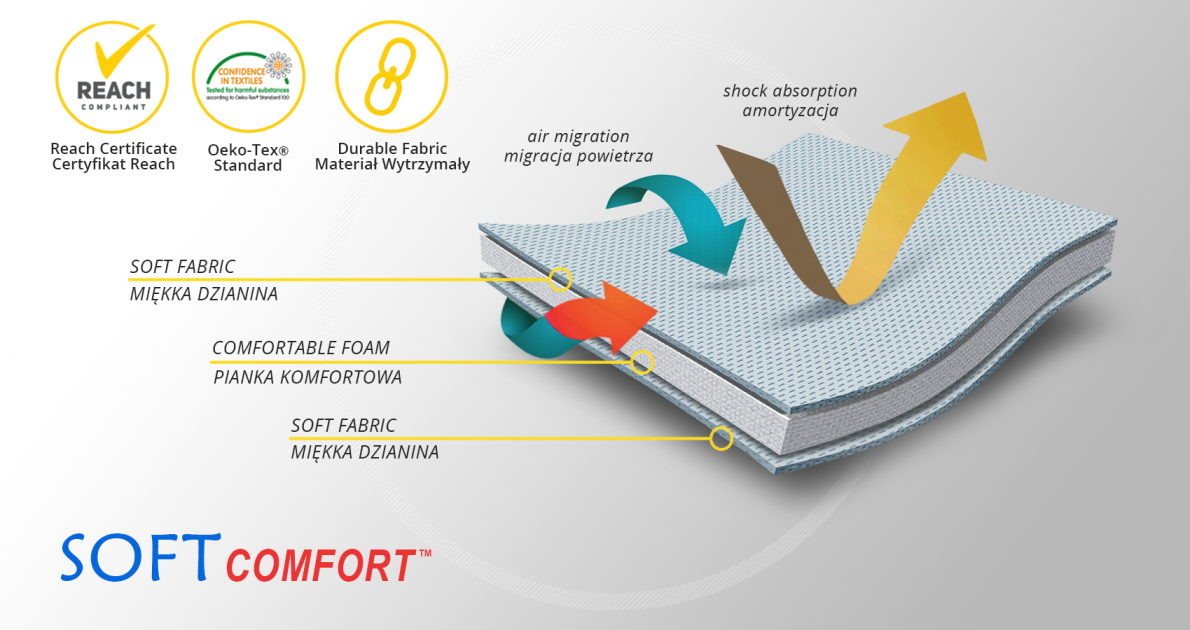 SoftComfort™ - a material specially designed to relieve very delicate places on the patient's body. The cover knit used in the production is made in such a way that it can come into contact with very sensitive skin. This raw material has the Oeko-Tex Standard 100 certificate and complies with the European REACH standard. The structure of the material consists of a very soft comfort foam laminated with a delicate cover knit. The fabric has a perforation that facilitates the flow of air through the material and allows the skin to breathe. The SoftComfort™ material is perfect for the production of linings relieving the rigid and inflexible elements of orthopedic orthoses.
Hand support of OKG-07, made of Active3D™, is anatomic-shaped and lightweight. It supports the hand and maintains it in the alignment, preventing against pressure and overusing the wrist joint.
The strap, where hand support is assembled, wraps the kid's chest and arm around and prevents against involuntary arm movement. The special Velcro closure provides smooth adjustment of compression and elevation.
Innovative design makes our arm sling for kids OKG-07 effective and safe. The straps do not go around the neck and do not make the pressure on the vertebrae and neck spine.
Arm sling for kids OKG-07 can be used for both limbs and it is available in 1 size.
Available sizes
| Size | Chest circumference | How to measure |
| --- | --- | --- |
| Universal | max 80 cm | |
Fits for both hands.
Downloads