Arm sling for kids with exercise ball OKG-06
Arm Sling for Kids with Exercise Ball OKG-06 is a paediatric upper limb medical device, made of the highest quality fabrics, fitting the needs of the children.
PRODUCT FEATURES
| | |
| --- | --- |
| | UPPER LIMB BRACE |
| | I CLASS MEDICAL PRODUCT |
| | SKIN FRIENDLY |
| | BREATHABLE |
| | ECOLOGICAL |
| | INNOVATIVE |
| | COTTON |
| | 24/7 THERAPY |
| | CAST REPLACEMENT |
| | DOUBLE-SIDED |
Elbow injury
The elbow is a joint made up of humerus and forearm bones. It bends and straightens like a hinge but is also important for rotation (supination and pronation) of the forearm. When you falling down, you cover your face with arms involuntary and due to this fact the elbows injuries are quite common. Olecranon fractures, which happen often, usually occur on their own, with no other injuries. This kinf of injuries cause sudden, intense pain and can prevent from moving the elbow. Simply conformation of the fracture may be performed with the x-ray. The most common management of elbow fracture is applying a splint (like a cast) to the elbow and keeping the joint position in a sling. To do that we highly recommend our paediatric arm sling OKG-06.
Purpose of use
elbow fracture
after surgery immobilization
elbow sprain / strain
elbow dislocation
rotator cuff injuries
shoulder dislocations
frozen shoulder
Product's description
Arm sling for kids OKG-06 is made of skin-friendly ActiveDistance™ material which allows skin to breath and support the limb comfortably.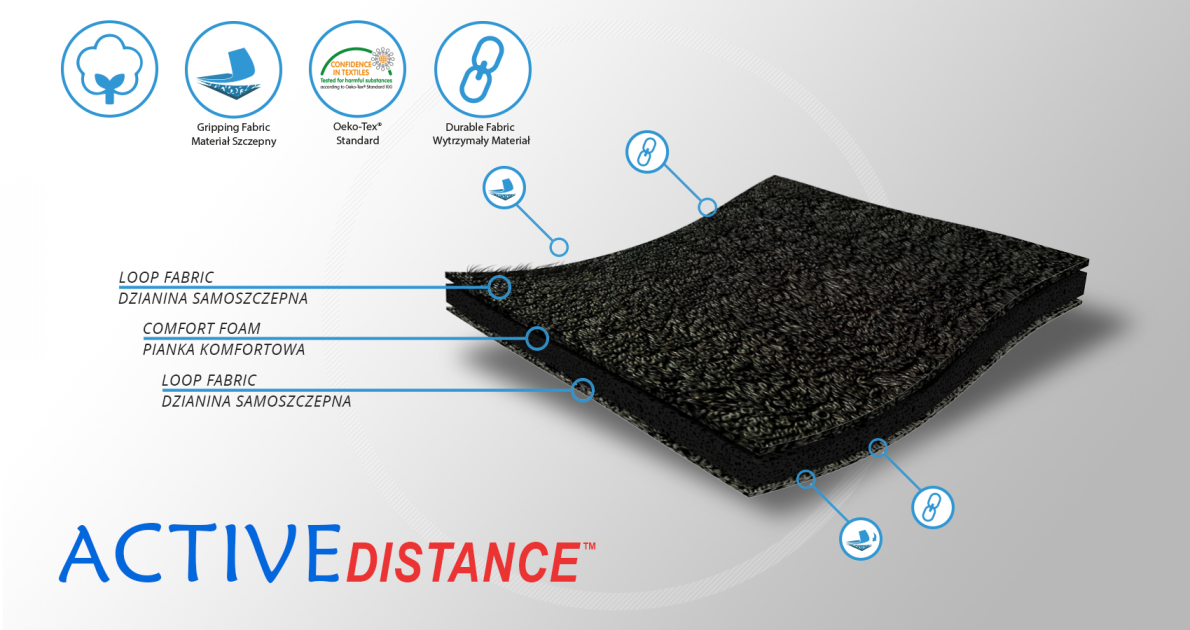 ActiveDistance™ is an technical off-loading lamination with 3-layered construction. It's made of EVA foam double-sided laminated with non-elastic polyamide layer that is easy to attach. This self-gripping function of ActiveDistance™ provides wide range of adjustment and perfect fitting. What is important, ActiveDistance™ is non-elastic fabric so it stabilizes your body in a perfect way. Thanks to using the comfort foam, the device is really soft what influences on the comfort of using it. Waterproof material.
Due to smooth wrap around straps adjustment, the product may be used in two ways.
Arm sling for kids OKG-06 offers excellent support after surgery and conservative treatment. It's lightweight and skin-friendly. Set of easy to adjust straps provides perfect fitting. Additional immobilizing strap keeps the arm by holding it against the torso and prevents the abduction. It is important in case of arm injuries.
Arm sling for kids OKG-06 relieves the pain and prevents against the complications. It is universal reversible product and fits for both arms.
Available sizes
Size
The length of the forearm and hand
Odpowiedni dla wieku
Sposób dokonywania pomiaru
1
18 – 26 cm
2 – 6 lat
2
26 – 36 cm
6 – 12 lat
Fits for both forearms.
Total length of the product:
1: 30 cm
2: 40 cm
Download