Orthopaedic toddler pillow PA-VM-12
Orthopaedic toddler pillow PA-VM-12 is designed for your Little One. It may be used by 2-year-old's and more baby. The pillow supports the cervical spine and shoulders, prevents against future deformations, muscles asymmetry and headache.
SPECIAL FEATURES
| | |
| --- | --- |
| | BREATHABLE |
| | RECOMMENDED BY SPECIALISTS |
| | COTTON |
| | MACHINE WASHABLE COVER |
| | DURABLE |
| | HYPOALLERGENIC |
| | CHEMICAL FREE |
PURPOSE OF USE
spine curvature disorders
headache
spinal deformations
muscle imbalance of neck and shoulders
keeping the spine healthy
Why you shouldn't give your toddler a regular pillow?
Probably you wonder why your kid needs a special pillow? The answer is simple: regular pillow does not support kid's cervical spine correctly and maintains the shoulder in the wrong position. What is more, regular pillow designed for adults has different proportions as an adults and resting on a regular pillow will place unnecessary strain on the neck and shoulders. It may lead in muscles contractions, poor posture, chronic headache and concentrations problems.
HOW DOES TODDLER ORTHOPAEDIC PILLOW PA-VM-12 WORK?
Our toddler pillow PA-VM-12 is an excellent product for back and side sleepers. The pillow has a good proportions and innovative design, supports the spine when your kid is sleeping on its back and side.
The pillow has two cervical rolls: larger and smaller. It supports both, narrow and wider necks. The kids with smaller body proportions (narrow neck) sleeps on the side with narrow trapeze's base. The kid with larger body proportions (wider neck) sleeps on the side with wide trapeze's base. What's more, such design makes our pillow PA-VM-12 universal. Younger baby with smaller body proportions sleeps on the smaller cervical roll, but if the baby will grow up, it will use the larger roll.
The pillow has also a special design for side sleepers. Sides of the product fill the free gap between head and shoulders when your baby's sleeping. It supports cervical spine and improves posture.
Such solution prevents against future deformations, reduces the headache and hand tingling. Our orthopedic pillow PA-VM-12 supports the spine of your kid, makes him more concentrated and relaxed.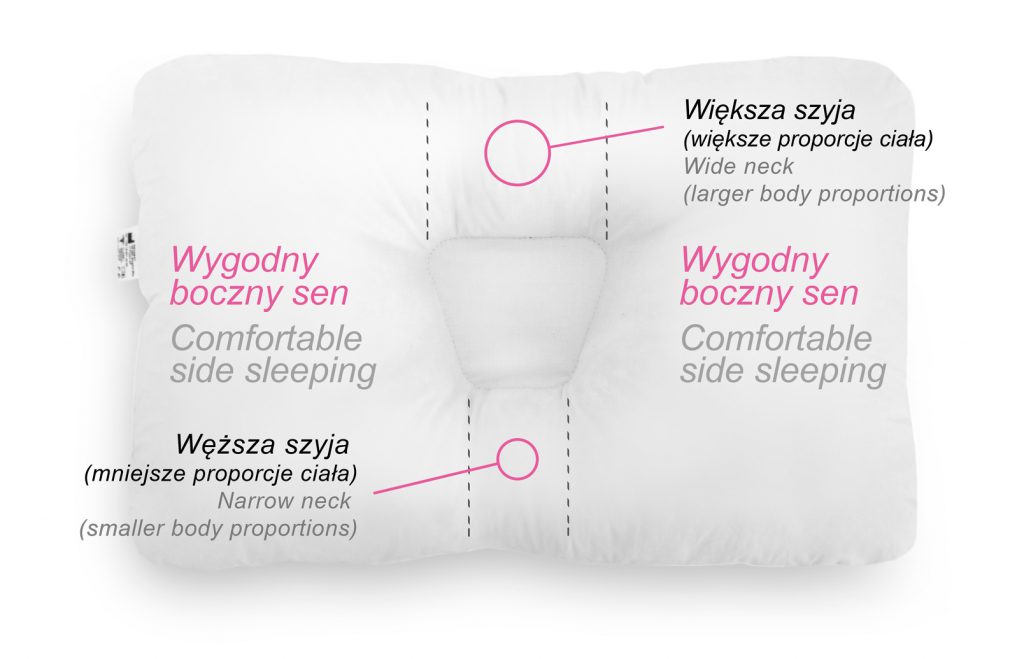 Toddler pillow PA-VM-12 is filled hypoallergenic silicone fiber. Also, the fiber has hypoallergenic and antifungal properties. The silicone filling does not cumulate microorganisms such as bacteria or mites and is recommend for allergy sufferers. It's highly flexible, soft and maintains the body's shape. It's durable and keeps the original shape for a long time. It may be washed in washing machine in 60 C degrees without losing its properties.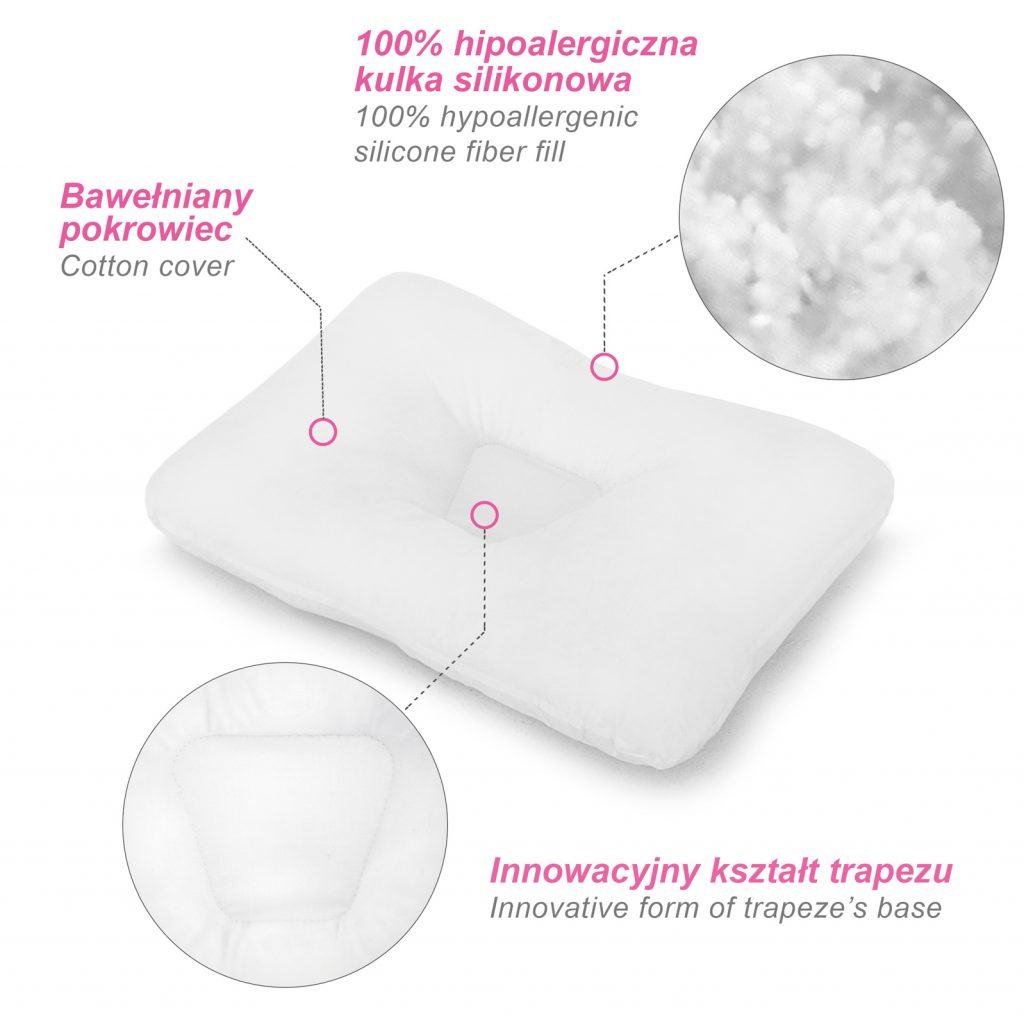 Covers for orthopedic pillow PA-VM-12 are made of high quality cotton with many certificates. Funny and colorful patterns are perfect for kids. Both, cotton and silicone fiber have OEKO-TEX® Standard 100 and Safe for child certificate.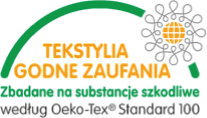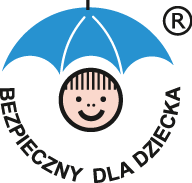 These certificates guarantee that our pillow has a high quality and we do not use harmful substances in production process. Certificate "Safe for child" means that product is safe for baby and provides comfort of use. The certificate is granted by established independent institutions. The STANDARD 100 by OEKO-TEX® is a worldwide consistent, independent testing and certification system for high quality products. It proves that our baby pillow does not contain any harmful substances and it's safe for intensive contact the baby's skin.
Our toddler pillow PA-VM-12 is made in Poland from the best materials. Products of REH4MAT are 1st class medical products with CE Mark Certification. Our products meet requirements for a quality management system ISO 13485:2016 and they have title "Medical Equipment 2014".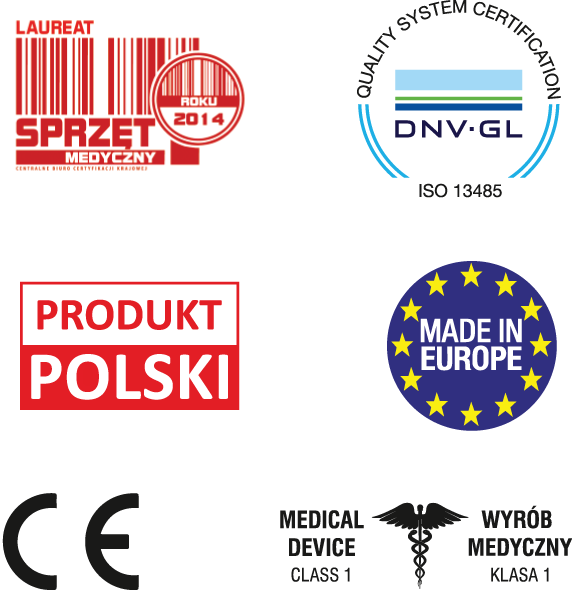 AVAILABLE COVER COLORS
COVER COLORS AVAILABLE UNTIL STOCKS RUN OUT