HAND INJURIES
Hand injuries are common in children, usually from accidents at home, at school or while playing. They can
range from simple contusions or soft tissue injuries to bone fractures. We distinguish among children
many types of upper limb injuries. The most common ones include fractures, dislocations and sprains.
A minor shoulder injury usually heals on its own with home treatment to relieve swelling and pain. It is necessary to relieve the pain with cold compresses and effectively immobilize the limb. The comfortable
OKG-24 pediatric sling
will be perfect for this purpose.
Product characteristics:
The specialized OKG-24 pediatric sling ensures effective and comfortable immobilization of the arm in the event of an injury.
The OKG-24 hand brace reduces post-traumatic swelling and pain, which results in faster healing.
The unique design allows for effective immobilization of the hand above the level of the heart, which reduces blood pressure.
The OKG-24 pediatric sling has a special cutout for the elbow, which keeps the arm at the right angle, minimizing pressure and discomfort and ensuring full range of movement of the fingers.
The product has a wide range of adjustments and can be easily adjusted to the appropriate size. The position of the immobilized limb can be easily adjusted using the other hand. The range of setting the limb elevation angle is very wide and can be adapted to the user's therapeutic needs.
Destiny:
fracture of the humerus, ulna or clavicle,

dislocation of the upper limb,

limb sprain,

injuries and contusions of the upper limb muscles,

shoulder and arm muscle overload,

skin injuries in the upper limb.
The OKG-24 children's sling is made of skin-friendly, breathable
UniCotton™
cotton fabric.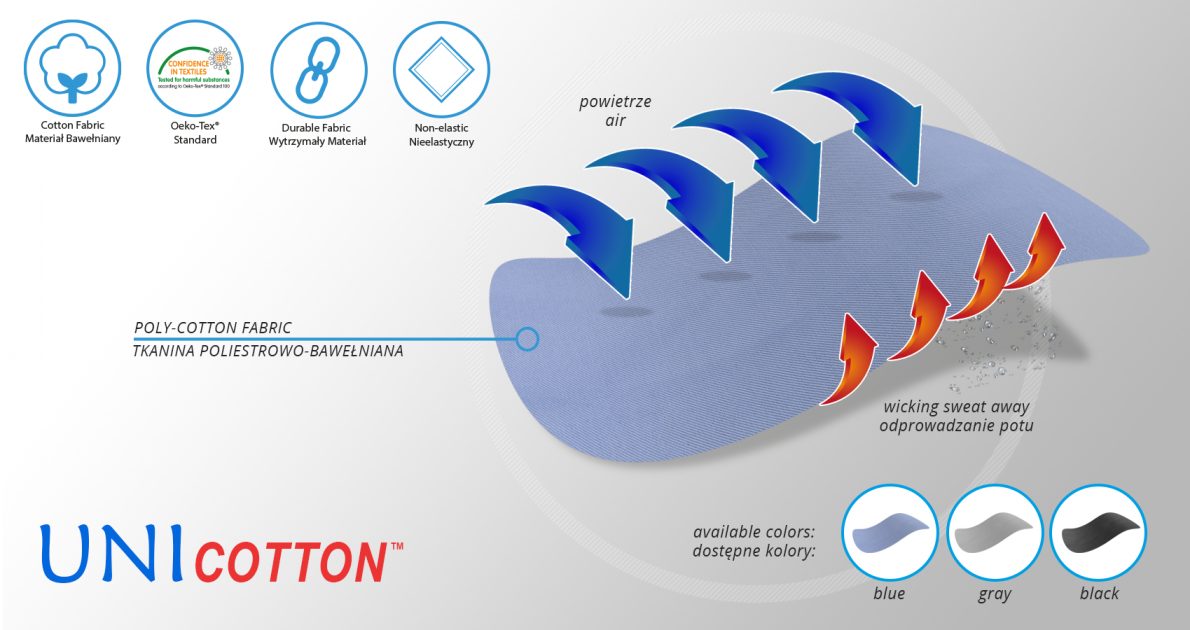 UniCotton™ is a polyester-cotton fabric with versatile use. The fabric is available depending on the needs in different colours and weights, is characterized by high durability and very good performance parameters, it has an Oeko-Tex Standard 100 certificate, which confirms the fact that it is inert to the patient's skin.
The torso belt is equipped with a soft, pressure-relieving foam cushion, reducing pressure on the neck and reducing the risk of compensation on the other part of the body.
Putting on and taking off the product is very simple and intuitive, and thanks to the snap buckle fastening, it is quick and comfortable.
Available sizes
Downloads