Kids shoulder immobilizer AM‑KOB
Kids shoulder immobilizer AM-KOB is designed for upper limb immobilization. It provides excellent compression, absorbs bruises and improves healing.
Product Features
| | |
| --- | --- |
| | UPPER LIMB BRACE |
| | I CLASS MEDICAL PRODUCT |
| | SKIN FRIENDLY |
| | BREATHABLE |
| | ECOLOGICAL |
| | INNOVATIVE |
| | COTTON |
| | 24/7 THERAPY |
| | CAST REPLACEMENT |
| | DOUBLE-SIDED |
PURPOSE OF USE
shoulder injuries
shoulder dislocations
arm sprain or strain
clavicle injury
fractures in the arm, elbow and forearm area
elbow sprain
po-op shoulder immobilization
soft tissues injuries (contusions, infections)
WHAT DOES SHOULDER INJURY IN CHILDREN MEAN?
Pediatric shoulder injuries differ from the same conditions in adults. The reasons are similar (fall onto an outstretched hand called FOOSH), but the growth plate in young bones causes a complicated and unique forms of injuries which are not easy for surgical treatment. Among kids we may observe mainly: shoulder dislocation, torn glenoid labrum, joint instability and 'Little League Shoulder'. Symptoms of shoulder injury include: swollen upper limb, pain and limited range of motion.
Once the shoulder injury is made, the RICE method should be done (rest, ice, compression and elevation). Our excellent kids shoulder immobilizer AM-KOB immobilizes and protects the upper limb after injury.
WHAT IS KIDS SHOULDER IMMOBILIZER AM-KOB?
Kids shoulder immobilizer AM-KOB is designed for upper limb immobilization. It provides excellent compression, absorbs bruises and improves healing.
Our kids immobilizer AM-KOB is made of innovative and comfortable material ACTIVEdistance.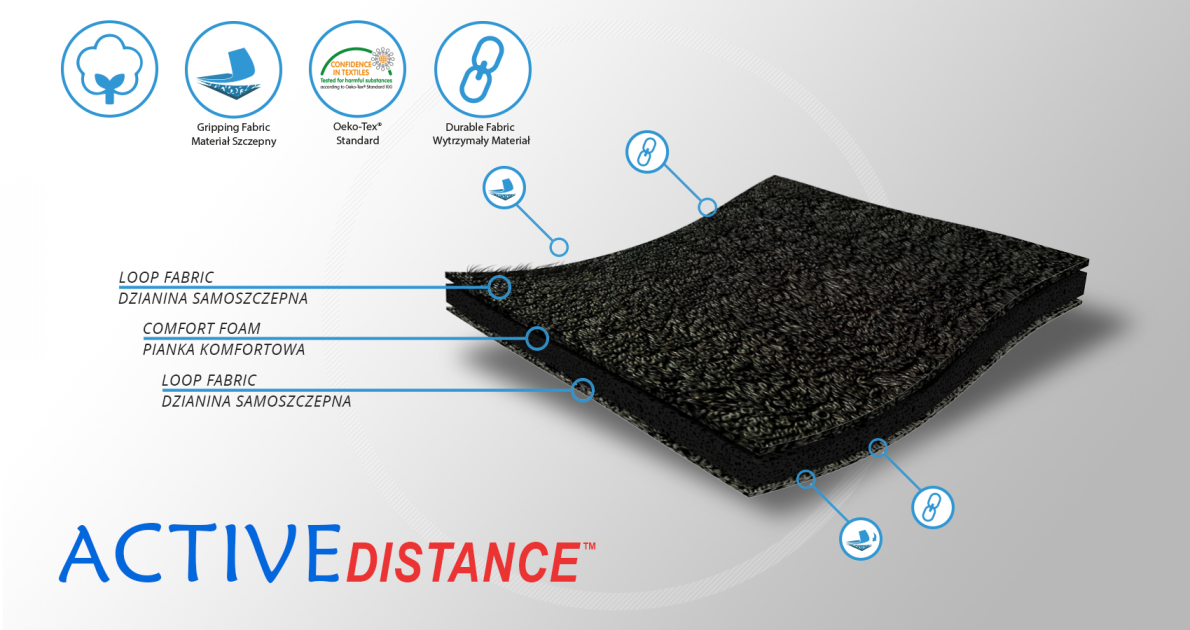 ActiveDistance™ is an technical off-loading lamination with 3-layered construction. It's made of EVA foam double-sided laminated with non-elastic polyamide layer that is easy to attach. This self-gripping function of ActiveDistance™ provides wide range of adjustment and perfect fitting. What is important, ActiveDistance™ is non-elastic fabric so it stabilizes your body in a perfect way. Thanks to using the comfort foam, the device is really soft what influences on the comfort of using it. Waterproof material.
Our kids shoulder brace AM-KOB is anatomic shaped and immobilizes the upper limb perfectly.
Furthermore, our Dessault bandage AM-KOB is equipped with special ribs belt which keeps the arm adducted and internal rotated and prevents against the involuntary abduction. The adducted position of the arm allows to heal any fractures or dislocated easy and fast.
Forearm sling provides extra stabilization and elbow immobilization what's important in case of extensive injuries.
Moreover, forearm sling is equipped with Velcro closure which is easy to open for passive or active exercises, which are very important for preventing against the muscle contractures. Of course, this kind of exercises should be overseen by doctor or physical therapist!
Available sizes
Size
Chest circumference
Typical age
How to measure
1
50 – 57 cm
2 – 4 years
2
57 – 65 cm
4 – 7 years
3
65 – 75 cm
7 – 12 years
| Size | Total height of the product | Total length of product |
| --- | --- | --- |
| 1 | 29 cm | 18 cm |
| 2 | 32 cm | 20 cm |
| 3 | 35 cm | 25 cm |
Right and left specific.
Downloads