Kids hand and forearm brace AM‑OSN‑L‑01
CHILDREN WRIST SPLINT
Children wrist splint AM-OSN-L-01 offers wrist, hand and forearm immobilization and stabilization.
Product Features
| | |
| --- | --- |
| | I CLASS MEDICAL PRODUCT |
| | ANATOMIC WRIST SPLINT |
| | WRIST & FOREARM BRACE |
WRIST SPRAIN
Wrist sprain is a common injury among children. Most often wrist sprains are caused by a fall on an outstretched arm while the forced back into hyperextension, stretching or tearing the soft tissue in the area including the ligaments. The ligaments are responsible for maintaining a stable hand position and controlling wrist movement. When the wrist is sprained, swelling and pain occurs and the child has limited mobility. Wrist sprains should be treated with ice and rest by immobilization. Our paediatric wrist brace AM-OSN-L-01 is designed for this purpose.
PURPOSE OF USE
• wrist sprain/strain
• wrist dislocation
• wrist inflammation
• overused wrist and II-V fingers joints
• joint capsule injury
• stress fracture
• II-V fingers ligaments injury
• wrist RA
PRODUCT'S DESCRIPTION
The brace has professional design offering wrist support. Children wrist splint AM-OSN-L-01 keeps the wrist in neutral position, required for proper wrist sprain healing.
Children wrist splint AM-OSN-L-01 is made of innovative fabric AirSanmed II™.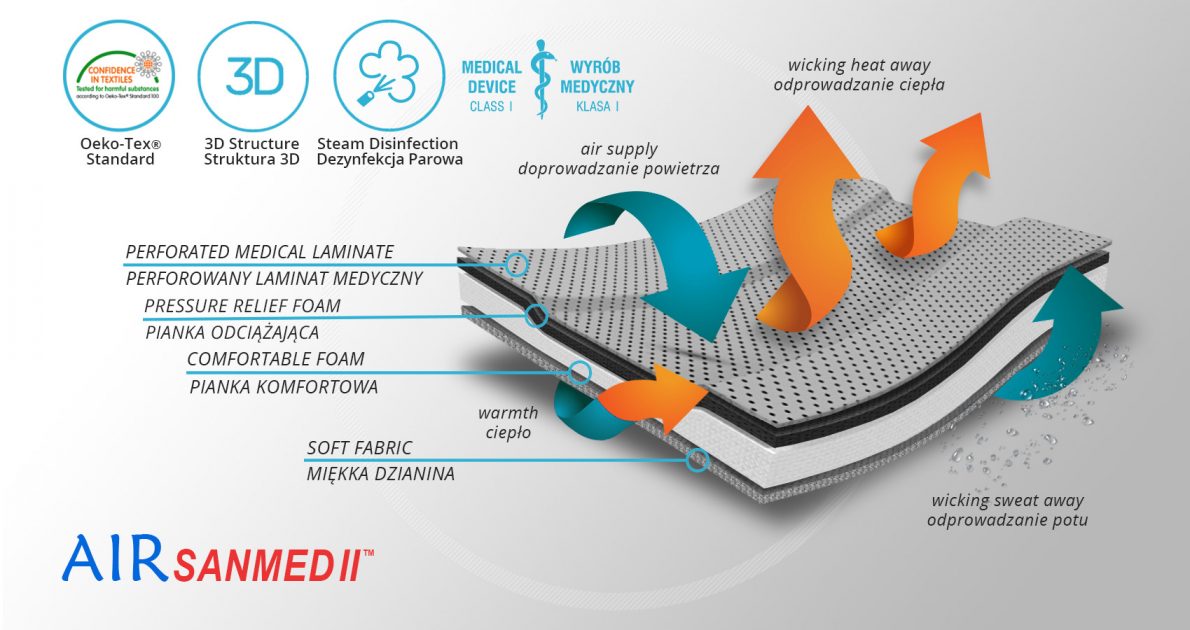 AirSanmed II™ is a multi layered intelligent orthopedic textile which is perfect for orthopedic braces production. It helps to maintain its functionality and high comfort of use. External vapour barrier is washable and possible to chemical or vapour disinfection. It is perforated and laminated with off loading foam. Due to this fact, the fabric is breathable and reduces the pressure of aluminum stays and splints. Off-loading foam is connected with soft, comfort foam improving the comfort of use. It's laminated with soft, breathable cotton with pH neutral for human's skin. This knitted cotton is certified with OekoTex Standard100 and fully skin-friendly.
ALLOWABLE DISINFECTANTS !!!
Type of active agent or surface-active agent
Maximum content in disinfectant
Spray the surface of the device with disinfectant, leave it for disinfectant's activation, then wash the device and dry it.
2-propane
35%
1-propane
25%
Ethanol
10%
Alkyl Dimethyl Benzyl Ammonium Chloride
0,2%
Glucoprotamine
25%
Palmar part of our children wrist splint AM-OSN-L-01 involves fingers II-V and offers their proper position. In addition, the brace is equipped with wraparound metacarpal strap preventing involuntary fingers flexion.
Dorsal side of the forearm is immobilized with 2 orthopaedic stays which prevent brace sliding.
Our children wrist splint AM-OSN-L-01 has Velcro closures which offer wide range of circumferential adjustment. Due to this fact, the brace may be used in case of hand and forearm swelling. Our wrist splint is easy to apply and remove for perfect control of skin's and tissues condition. For this reason, the brace may be used in case of Volkmann contracture.
AVAILABLE SIZES
Size
Wrist circumference
Typical age
How to measure
1
10 – 12 cm
3 – 5 years
2
12 – 15 cm
5 – 12 years
Right and left hand specific.
Total length of the product:
1: 21 cm
2: 25 cm
DOWNLOADS