Infant Umbilical Navel Hernia Truss Belt AM-PPB
Infant umbilical navel hernia truss belt AM-PPB is a great solution for navel hernia treatment.
SPECIAL FEATURES
| | |
| --- | --- |
| | ABDOMINAL BELT |
| | I CLASS MEDICAL PRODUCT |
| | SKIN FRIENDLY |
| | BREATHABLE |
| | ALSO AVAILABLE IN VERSION FOR INFANTS |
| | RECOMMENDED BY SPECIALISTS |
| | HYPOALLERGENIC |
| | CHEMICAL FREE |
| | LATEX-FREE |
| | UNIVERSAL SIZE |
| | SILICONE PAD |
Infant Umbilical Navel Hernia
The baby is connected to mother with umbilical cord. When the child is born and after the cutting the umbilical cord, there is a small opening in the abdominal muscles that allows the umbilical cord to pass through. As the baby grows after birth, this opening in the abdominal muscles closes. Sometimes, however, these muscles do not meet and grow together completely, and a small opening remains. In this case, intestine or fat pushes through a weak spot or hole. This causes a bulge near or in the belly button, or navel. It may look like your child's belly button is swollen.
The umbilical hernia occurs in 10 percent to 20% of all babies. It is more noticeable when the baby cries and may become smaller or disappear when the baby is quiet.
When the umbilical hernia remains up to 4-5 years old, the surgery is necessary. Up to this age, conservative treatment with infant umbilical hernia belt AM-PPB 1 with silicone pad is crucial.
Product's description
Infant umbilical navel hernia truss belt AM-PPB 1 is made of high quality comfortable fabric called ACTIVEdistance.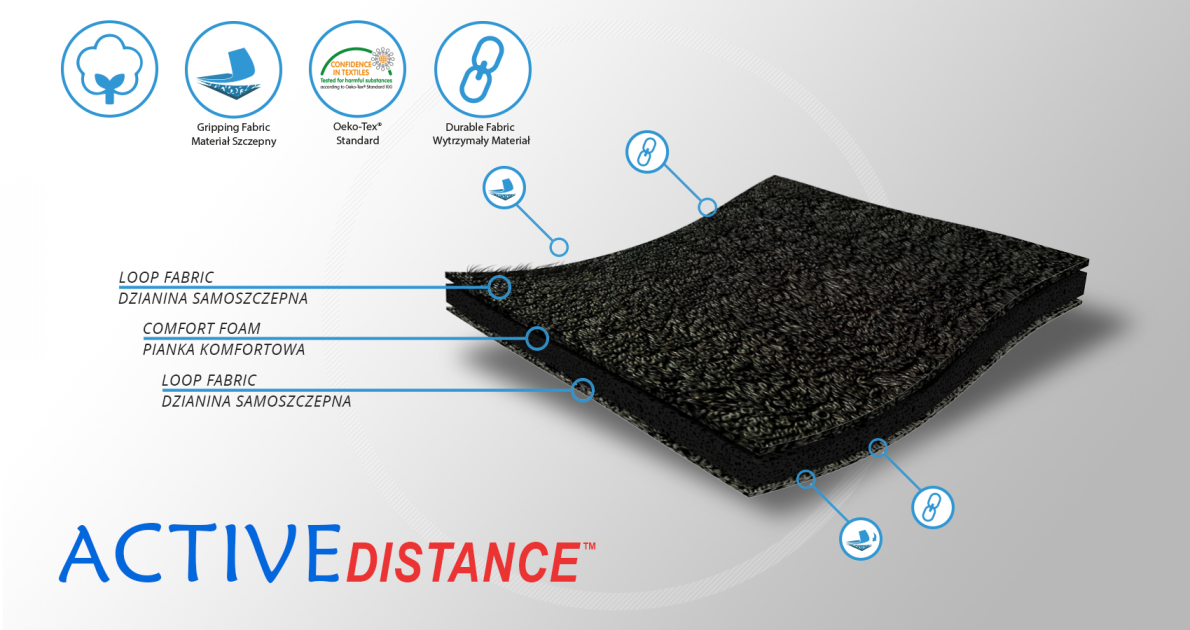 ActiveDistance™ is an technical off-loading lamination with 3-layered construction. It's made of EVA foam double-sided laminated with non-elastic polyamide layer that is easy to attach. This self-gripping function of ActiveDistance™ provides wide range of adjustment and perfect fitting. What is important, ActiveDistance™ is non-elastic fabric so it stabilizes your body in a perfect way. Thanks to using the comfort foam, the device is really soft what influences on the comfort of using it. Waterproof material.
What's more, our children umbilical hernia belt AM-PPB 1 is equipped with safe, soft silicone pad which pushes the hernia backward gently. It's is anatomic shaped and fits perfect to the navel area.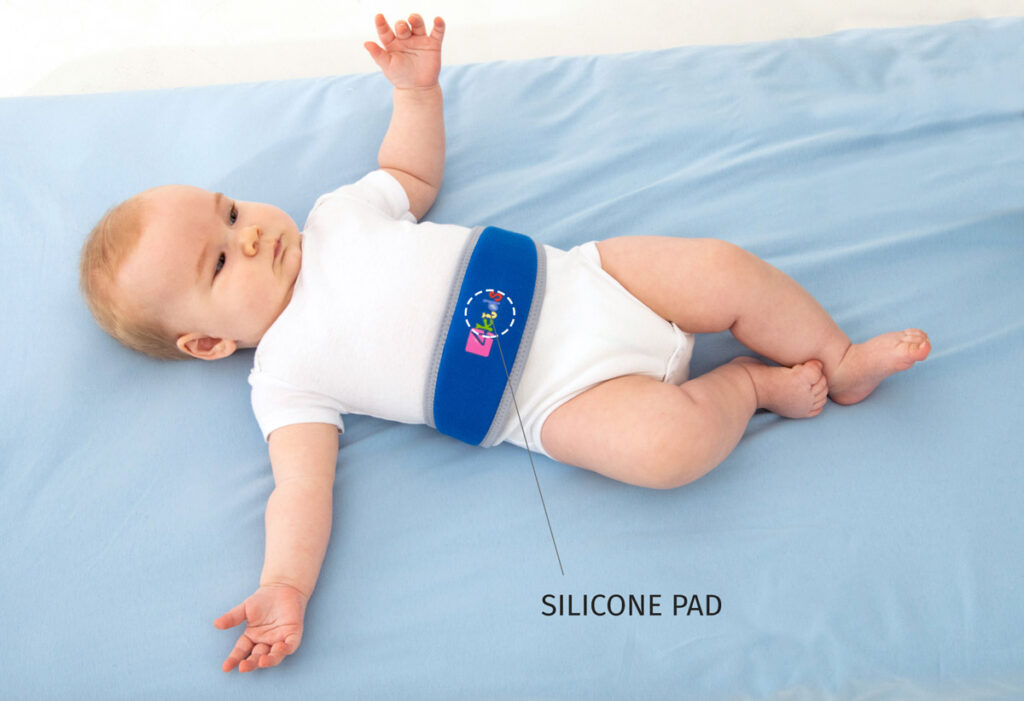 Wrap around design provides wide range of circumferential adjustment. It's available in one size only. ACTIVEdistance fabric is slightly elastic and provides maximum comfort when the baby breathes and moves. High effectiveness and safety guwarantee.
Purpose of use
Available sizes
| Size | Waist circumference at the level of the navel | How to measure |
| --- | --- | --- |
| Universal | min 30 cm – max 52 cm | |
Total height of the product:
Front: 7 cm
Back: 3,5 cm