Figure 8 clavicle brace AM‑TX‑06
Our peadiatric figure 8 clavicle brace AM-TX-06 is a professional medical device. It immobilizes the collarbone and offers high level of stabilization. The figure 8 designed wraps around the both shoulders, help holds shoulders back, keeping collarbone stable.
Product Features
| | |
| --- | --- |
| | CLAVICLE BRACE |
| | I CLASS MEDICAL PRODUCT |
| | RECOMMENDED BY SPECIALISTS |
| | FULL RANGE OF ADJUSTMENT |
| | COMPRESSION |
Purpose of use
collarbone fracture
dislocation of the acromioclavicular (AC) joint
improving the posture
COLLARBONE FRACTURE
Clavicle, called collar bone, connects the sternum and scapula. It's a part of the shoulder girdle. Collarbone fracture is a common condition among kids. This can happen when the child is falling hard on a shoulder or an outstretched arm. Also, it occurs in sports and playing in the playground.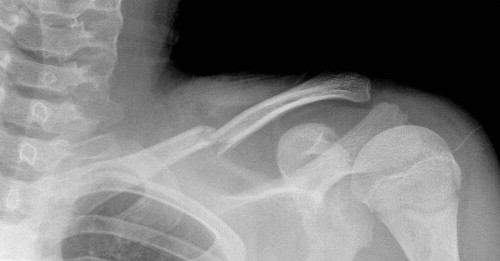 Diagnosis of fractured clavicle is easy. The affected area is painful, swollen and has limited mobility. This is visible in X-rays and physical examination. The outer layer of the collarbone, called periosteum, is thick. The clavicle periosteum doesn't usually break, so its healing is fast and requires immobilization with the professional paediatric clavicle brace AM-TX-06.
Product's description
Our kids 8 figure clavicle brace AM-TX-06 is made of soft, comfortable foam and innovative fabric ActiveDistance™.
ActiveDistance™ is an technical off-loading lamination with 3-layered construction. It's made of EVA foam double-sided laminated with non-elastic polyamide layer that is easy to attach. This self-gripping function of ActiveDistance™ provides wide range of adjustment and perfect fitting. What is important, ActiveDistance™ is non-elastic fabric so it stabilizes your body in a perfect way. Thanks to using the comfort foam, the device is really soft what influences on the comfort of using it. Waterproof material.
Optimum wide straps provide excellent clavicle's stabilization and comfort of use. Our collarbone brace AM-TX-06 doesn't put pressure on kid's armpits.
Our paediatric 8 figure clavicle brace AM-TX-06 offers perfect collarbone's immobilization and improves the healing.
Inside the brace is made of light weight, comfortable foam which is almost "invisible" for user. Due to this fact, our 8 figure collarbone brace is more comfortable than traditional casts. Durable Velcro closure allows to use it many times without loosing the level of stabilization.
Our paediatric 8 figure clavicle brace AM-TX-06 offers wide circumferential adjustment and perfect fitting.
Available sizes
Size
Chest circumference
How to measure
1
40 – 50 cm
2
50 – 60 cm
3
60 – 70 cm
ATTENTION! To adjust the appropriate size, measure the chest circumference at the level of the armpits.
Downloads