Children's light postoperative elbow immobilizer AM‑KG‑AR/1R
CHILDREN'S REDRESSING BRACE FOR ELBOW JOINT
Children's light postoperative elbow immobilizer with a mechanism to adjust the range of motion in every 15°. The elbow brace, can be used as an postoperative immobilizer or as an method of treatment of contractures (scars after fire), dislocations or fractures.
Product description
The AM-KG-AR/1R brace is equipped with one-axial side-splints. The set of splints in apparatus as well as their specific elasticity causes righteous sticking it to the extremity and let to gain perfect stabilization of the elbow joint. Splints are equipped with the clocks which make possible to regulate the flexion and extension of the extremity in intervals of 15 degrees. The precise control would make easier the rehabilitation process of elbow joint.
Splints ensure side-stability of the upper extremity, the system of setting them to sleevelesses of arm and forearm has also been installed. It makes possible individual, easy and precisely matching the area connecting the splints to the soft part of the apparatus.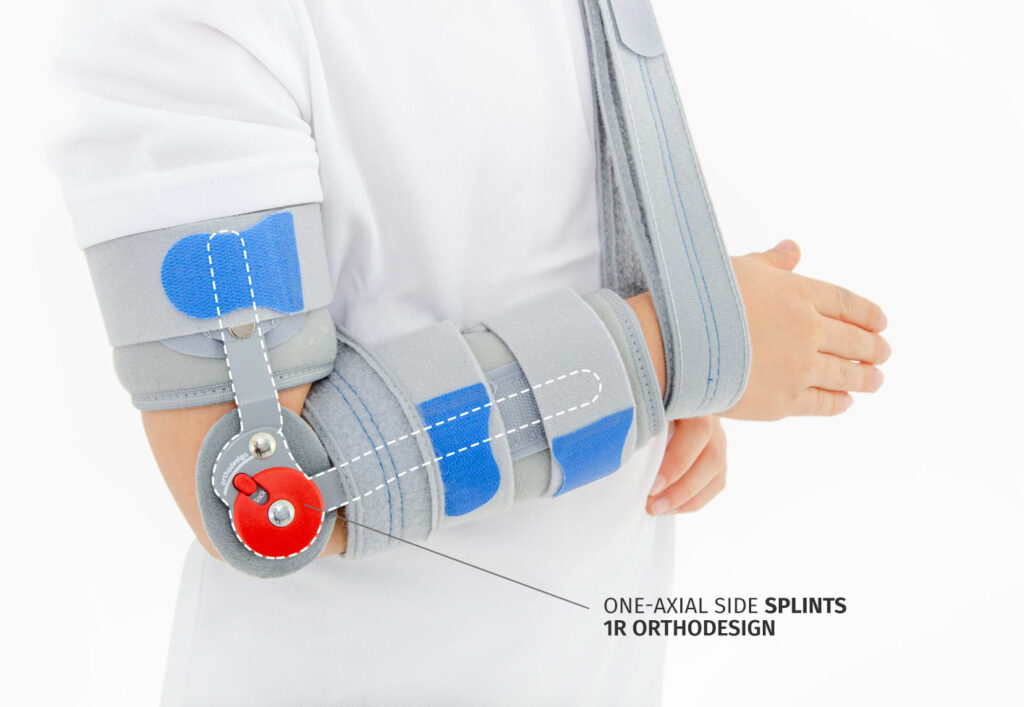 System of VELCRO tapes position the product and ensure the orthese precisely stick to the extremity and stabilizes the joint.
Soft pillows to protect the elbow before injuries, have been installed under the joints.
The brace is made of innovative and skin-friendly material ActiveDistance II™.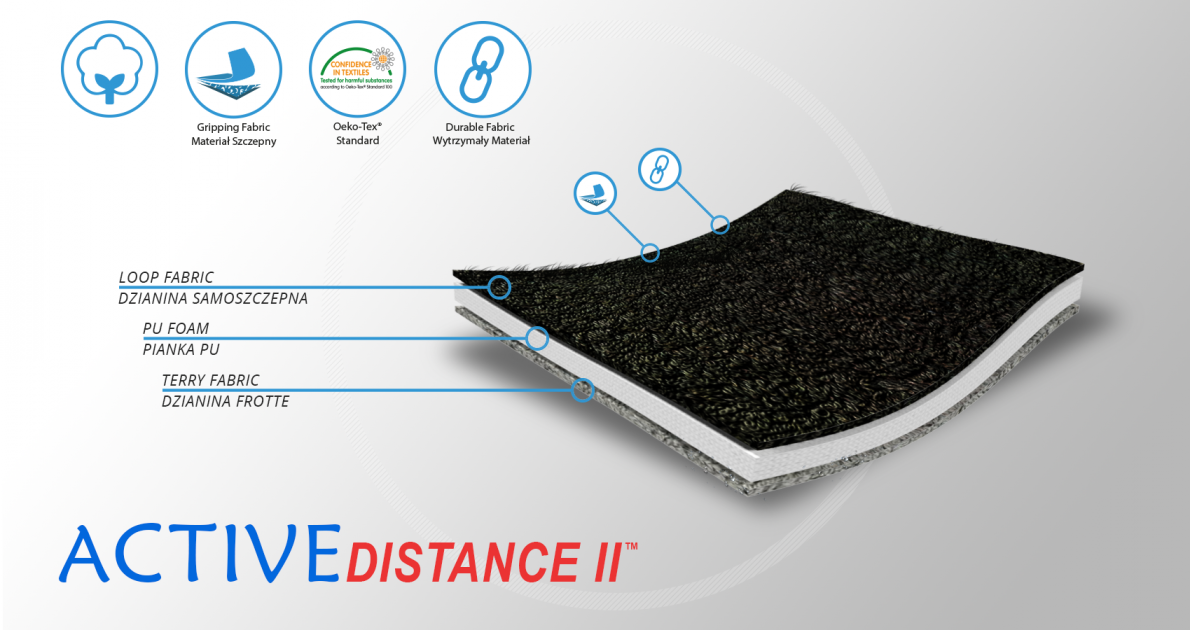 ActiveDistance II™ is an active 3-layered fabric made of non-elastic polyamide self-gripping layer, comfort foam and cotton terry. The last one layer is responsible for maintaining your skin dry. This material is skin-friendly and has the Oeko-Tex Standard 100 certificate. Self-gripping function of ActiveDistance II™ allows to fit the braces precisely.
Purpose of use
Should be applied in cases of:
contracture of bend and unbend of cubital pond,
instability of elbow after injuries,
in cycle of convalescence after fractures,
after operations (orthopaedy).
Orthese AM-KG-AR/1R consists of:
Two open sleevelesses- of the arm and forearm- easy to wear on and fitted to the size of upper extermity.
Set of orthopedic splints and system of fast mounting.
Velcro tapes.
Sheet which susoenses upper extermity.
Available sizes
Size
Splint lenght
Circumference
How to measure
A
B
1
2
1
8 cm
3,2″
10 cm
3,9″
max 18 cm
(max 7,1″)
max 16 cm
(max 6,3″)
2
11 cm
(4,3″)
14 cm
(5,5″)
max 18 cm
(max 7,1″)
max 18 cm
(max 7,1″)
The product includes a universal hand suspension in the set. The suspension can be shortened.
Downloads
1R orthodesign splints

The orthopaedic splints 1R is the innovative solution with flexion and extension adjustment. The drop lock is very small (diameter: 30 mm) and provides 15° ROM adjustment. In addition, we apply the allen screws, which are mounted by steel pins and magnet. The most innovative is the blocking disk with the ratchet, which ensures required angle of ROM.