BATH SEAT NONO™

Bath child seat NONO™ was designed for keeping the hygiene with proper stabilization. It is created for disabled children and those whose have limited mobility.
SPECIAL FEATURES
| | |
| --- | --- |
| | I CLASS MEDICAL PRODUCT |
| | INNOVATIVE |
| | ALSO AVAILABLE IN VERSION FOR INFANTS |
| | RECOMMENDED BY SPECIALISTS |
| | CHEMICAL FREE |
| | WATERPROOF |
| | LATEX-FREE |
| | FULL RANGE OF ADJUSTMENT |
PURPOSE OF USE
cerebral palsy (CP)
paralysis or paresis
poliomyelitis (Heine-Medin disease)
limb injuries or limb amputation
limb deformities
joint arthritis and injuries
WHAT IS NONO™ CHILDREN BATH CHAIR?
Bath child seat NONO™ was designed for keeping the proper hygiene of children suffering from neurological and orthopedic conditions.
If your child needs additional stabilization during taking a bath, our bath chair NONO™ will be very helpful. Our bath device supports the child during a bath, when the risk of injury is almost impossible. With NONO™, parents may take care about a disabled children safely and easily. Due to keeping the stabile and comfortable position, a child undergoes a bath much easier.
Bath child seat NONO™ is made of aluminum tubes that are additionally protected by durable cover in a high temperature and as a result the construction is resistant to harmful effects of water and sweat. Moreover, the inside of tubes was filled with special foam that prevents from water.
Pipes are filled in with PU foam in all our bath products what prevents water from getting inside the pipes. When you take out the product from bath tub or shower water will not leak out which will remain your floor dry.
Seat is equipped with the adjustment of backrest's tilt angle which makes it possible to adjust it to child's needs (both in sitting as well as lying position).
Upholstery is made of polyamide netting which is neutral for water influence. Seat is equipped with pelvic belt that protects child when he or she experiences uncontrollable movements.
The construction of product is simple which makes the product easy to use while bathing. It easily fits in standard bathtub and, moreover, it adjusts to child's needs. Seat is equipped with foam covers which protect the product against moving in bathtub. Furthermore, it also protects bathtub against mechanical damages.
SIZE TABLES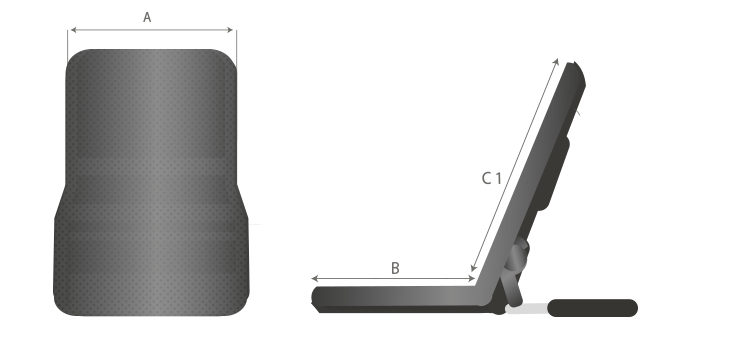 | Symbol | Measurement | Unit | Mini | Maxi |
| --- | --- | --- | --- | --- |
| A | Product width | [cm] | 37,5 | 37,5 |
| B | Seat depth | [cm] | 30 | 30 |
| C1 | Backrest height | [cm] | 45 | 58 |
| | Maximum user weight | [kg] | 60 | 75 |
| | Indicative user height | [cm] | 110 | 110 |
* The value cannot be main factor for selection of product size
Weight and dimensions of the device
| Measurement | Unit | Mini | Maxi |
| --- | --- | --- | --- |
| Width | [cm] | 40 | 40 |
| Width after folding | [cm] | 40 | 40 |
| Length | [cm] | 65 | 65 |
| Length after folding | [cm] | 73 | 84 |
| Height | [cm] | 49 | 59 |
| Height after folding | [cm] | 14 | 14 |
| Weight | [kg] | 2 | 2,5 |
Downloads
AVAILABLE COLOURS