SPECIAL FEATURES
| | |
| --- | --- |
| | UPPER LIMB BRACE |
| | I CLASS MEDICAL PRODUCT |
| | SKIN FRIENDLY |
| | BREATHABLE |
| | INNOVATIVE |
| | 24/7 THERAPY |
| | DOUBLE-SIDED |
Upper extremity injuries
Upper extremity injuries are quite common in children. Playing in the playground or doing sports, increase the physical activity and risk of injury. The most common injuries include: dislocations, sprains or strains and fractures. Fortunately, orthopaedic injuries in children heal fast and usually do not require performing surgeries. In many cases, arm immobilization are crucial for regain full mobility. Our universal paediatric arm sling OKG-03 is ideal for this purpose.
Purpose of use
• elbow dislocations
• elbow sprain
• elbow injuries
• shoulder injuries
• arm sprain or strain
• clavicle injury
• fractures in the arm, elbow and forearm area
• po-op shoulder immobilization
• soft tissues injuries (contusions, infections)
Product's description
Pediatric arm sling OKG-03 is a professional brace which holds the arm in the required therapeutic position, improves the blood flow and promotes healing. Our pediatric arm sling OKG-03 is a certified medical device. The hand part is made of innovative, easy to clean fabric called AirSanmed II™.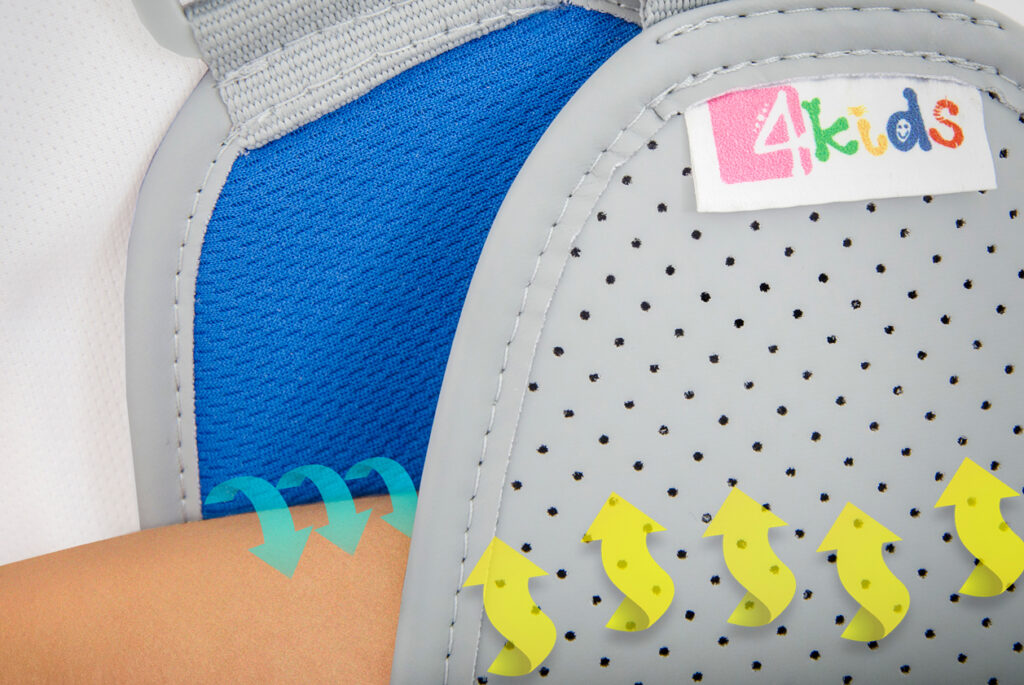 Hand part is anatomic designed for offering perfect fitting and stabilization and reduces the pressure on the skin. Inside part is made of skin-friendly breathable cotton.
Comfortable Velcro closures offer easy product's application, stabilization and safety.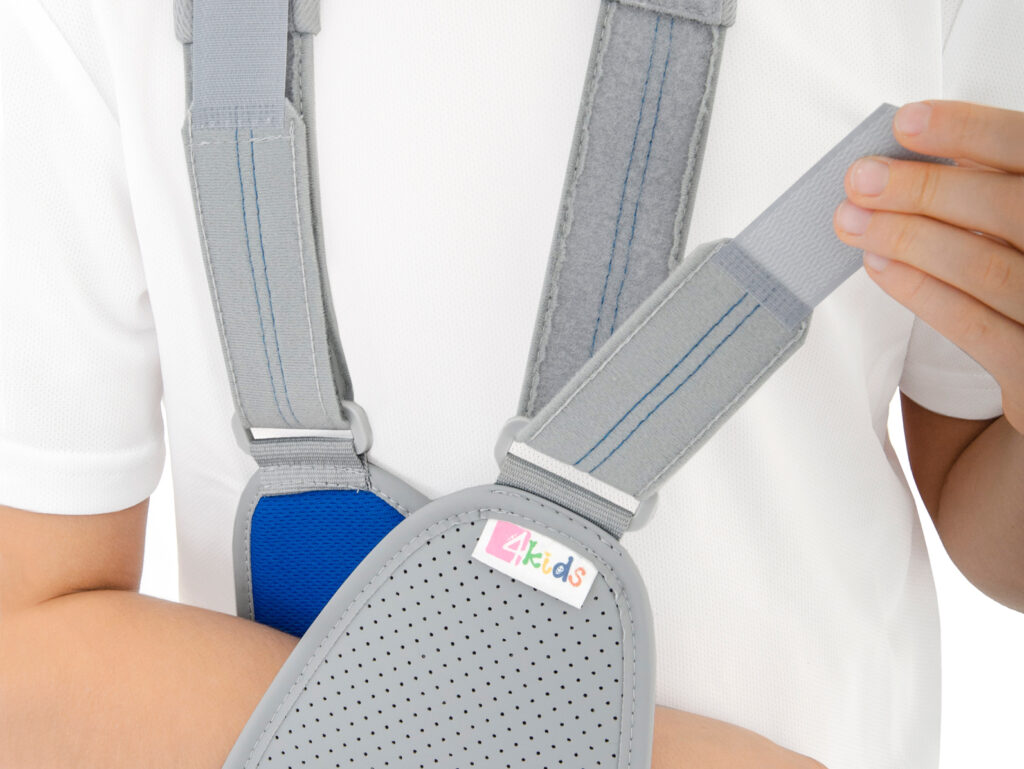 Anatomic hand part is connected with soft but durable neck strap, made of skin friendly SoftComfort™.
Neck strap offers excellent amortization and soft low profiled foam that prevents skin against the lesions and pressure points.
In addition, the strap is easy to attach and offers smooth length adjustment. Such solution promotes perfect fitting and possibility to maintain therapeutic position of the upper extremity.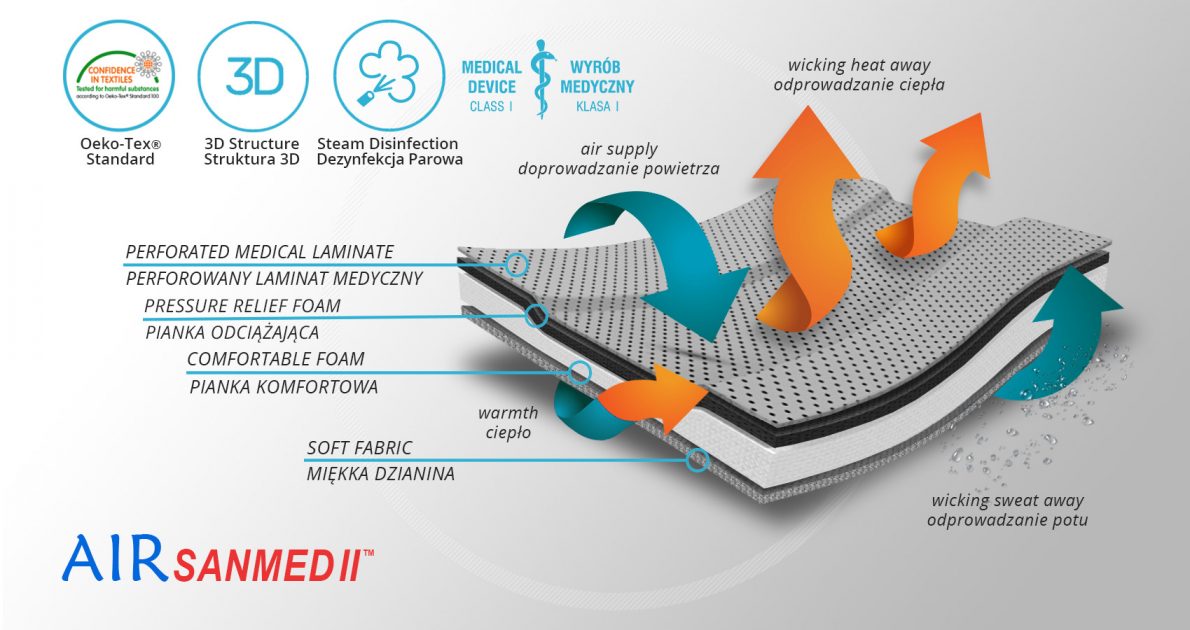 AirSanmed II™ is a multi layered intelligent orthopedic textile which is perfect for orthopedic braces production. It helps to maintain its functionality and high comfort of use. External vapour barrier is washable and possible to chemical or vapour disinfection. It is perforated and laminated with off loading foam. Due to this fact, the fabric is breathable and reduces the pressure of aluminum stays and splints. Off-loading foam is connected with soft, comfort foam improving the comfort of use. It's laminated with soft, breathable cotton with pH neutral for human's skin. This knitted cotton is certified with OekoTex Standard100 and fully skin-friendly.
ALLOWABLE DISINFECTANTS !!!
Type of active agent or surface-active agent
Maximum content in disinfectant
Spray the surface of the device with disinfectant, leave it for disinfectant's activation, then wash the device and dry it.
2-propane
35%
1-propane
25%
Ethanol
10%
Alkyl Dimethyl Benzyl Ammonium Chloride
0,2%
Glucoprotamine
25%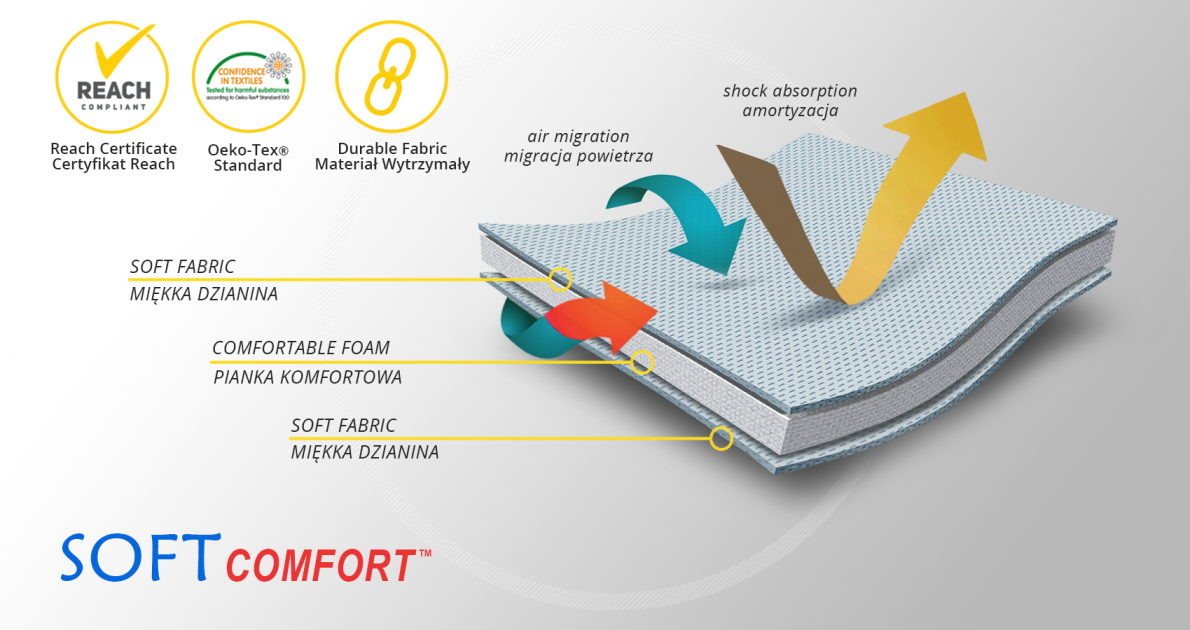 SoftComfort™ - a material specially designed to relieve very delicate places on the patient's body. The cover knit used in the production is made in such a way that it can come into contact with very sensitive skin. This raw material has the Oeko-Tex Standard 100 certificate and complies with the European REACH standard. The structure of the material consists of a very soft comfort foam laminated with a delicate cover knit. The fabric has a perforation that facilitates the flow of air through the material and allows the skin to breathe. The SoftComfort™ material is perfect for the production of linings relieving the rigid and inflexible elements of orthopedic orthoses.
Our universal children arm sling OKG-03 provides excellent support after surgery and conservative treatment. The sling maintains the hand in therapeutic position, improves the blood flow, reduces the risk of swelling, bruising and other po-injury complications.
Pediatric arm sling OKG-03 offers maximum air flow.
Available sizes
Size
Child's height (A)
Typical age
How to measure
1
90 – 120 cm
2 – 6 years
2
>120 cm
6 – 14 years
Fits for both hands.
Downloads