BATH DECKCHAIR AKVOLITO™

Bath deckchair AKVOLITO™ was designed for keeping the hygiene with proper stabilization. It is created for disabled children and those whose have limited mobility.
SPECIAL FEATURES
| | |
| --- | --- |
| | I CLASS MEDICAL PRODUCT |
| | INNOVATIVE |
| | RECOMMENDED BY SPECIALISTS |
| | CHEMICAL FREE |
| | WATERPROOF |
| | LATEX-FREE |
| | FULL RANGE OF ADJUSTMENT |
PURPOSE OF USE
cerebral palsy (CP)
paralysis or paresis
poliomyelitis (Heine-Medin disease)
limb injuries or limb amputation
limb deformities
joint arthritis and injuries
WHAT IS CHILDREN BATH DECKCHAIR AKVOLITO™?
Bath deckchair AKVOLITO™ was designed for keeping the proper hygiene of children suffering from neurological and orthopedic conditions. Many parents or caretakers of children with disabilities know how hard are daily routines. Due to this fact, we launched excellent bath deckchair for stabilizing the child during the bath time and reducing the risk of injury. Stable and comfort child's position in the deckchair makes day-to-day routines and family life easier.
Lightweight, aluminum solid frame protects from adverse effects of water. Furthermore, frame is equipped with foam covers that protect bathtub or kids bath tub from scratching. Unique construction of frame makes it possible to adjust the tilt angle of four areas namely footrest, seat, backrest and headrest. Moreover, seat can be adjusted at any height.
Head support, with width adjustment, keeps the child's head in the proper position and prevents against its involuntary movement. It reduces the risk of chocking on water during bath time.
Trunk support makes it possible to adopt correct body position while being in a chair. It stabilizes the trunk muscles and provides comfort of use.
Lower limb supports keep the proper kid's position and prevent against the involuntary movement and reflexes.
Innovative construction of AKVOLITO™ allows to adjust the chair in the required positions. After folding up, the chair has really reduced size.

SIZE TABLES
| Symbol | Measurement | Unit | Size Baby | Size 0 | Size 1 | Size 2 mini | Size 2 | Size 3 | Size 4 |
| --- | --- | --- | --- | --- | --- | --- | --- | --- | --- |
| A | Product width | [cm] | 35 | 35 | 40 | 35 | 40 | 45 | 50 |
| A1 | usable width | [cm] | 26 | 26 | 31 | 26 | 31 | 36 | 41 |
| B | Seat depth | [cm] | – | 22 | 25 | 28 | 28 | 33 | 35 |
| C | Headrest height | [cm] | – | 19 | 22 | 26 | 26 | 30 | 33 |
| C1 | Backrest height | [cm] | – | 28 | 33 | 37 | 37 | 43 | 50 |
| C2 | Lower leg lenght | [cm] | – | 24 | 28 | 31 | 31 | 36 | 41 |
| B+C2 | Seat depth with lower leg length | [cm] | 41 | 46 | 53 | 59 | 59 | 69 | 79 |
| C+C1 | Backrest height with backrest height | [cm] | 41 | 47 | 55 | 63 | 63 | 73 | 83 |
| Z | Footers tilt angle (relatively to the seat) | [°] | – | 90 – 180 | 90 – 180 | 90 – 180 | 90 – 180 | 90 – 180 | 90 – 180 |
| Z1 | Backrest tilt angle (relatively to the seat) | [°] | 90 – 180 | 90 – 180 | 90 – 180 | 90 – 180 | 90 – 180 | 90 – 180 | 90 – 180 |
| Z2 | Headrest tilt angle (relatively to the backrest) | [°] | – | 144 – 234 | 144 – 234 | 144 – 234 | 144 – 234 | 144 – 234 | 144 – 234 |
| | Max. user weight | [kg] | 25 | 30 | 50 | 50 | 60 | 70 | 80 |
| W | Indicative user height* | [cm] | 55 – 75 | < 80 | < 90 | < 105 | < 105 | < 120 | < 160 |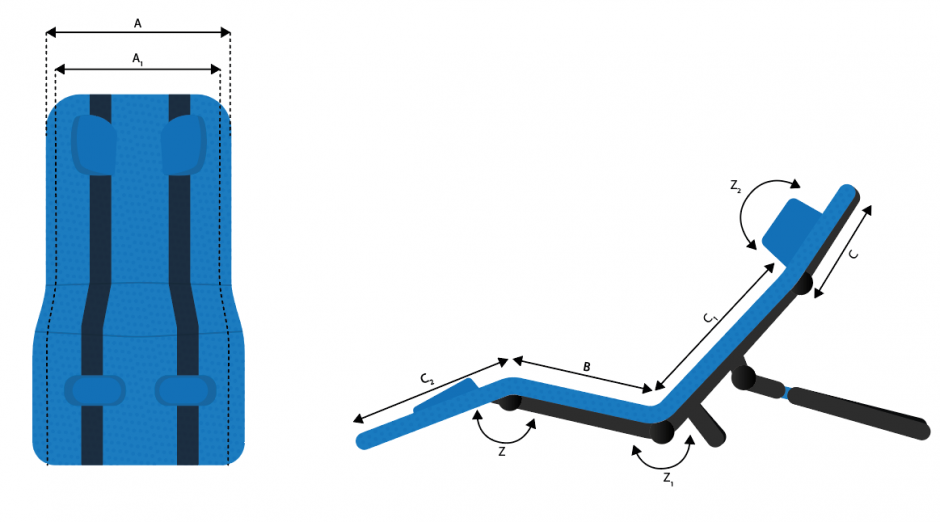 Weight and dimensions of the device
| Measurement | Unit | Size Baby | Size 0 | Size 1 | Size 2 mini | Size 2 | Size 3 | Size 4 |
| --- | --- | --- | --- | --- | --- | --- | --- | --- |
| Width | [cm] | 35 | 35 | 40 | 35 | 40 | 45 | 50 |
| Width after folding | [cm] | 35 | 35 | 40 | 35 | 40 | 45 | 50 |
| Length | [cm] | 74 – 82 | 68 – 97 | 76 – 113 | 87 – 124 | 87 – 124 | 97 – 145 | 107 – 164 |
| Length after folding | [cm] | 41 | 50 | 60 | 67 | 67 | 76 | 86 |
| Height | [cm] | 18 – 51 | 24 – 57 | 24 – 63 | 26 – 68 | 26 – 68 | 27 – 75 | 27 – 81 |
| Height after folding | [cm] | 30 | 23 | 23 | 23 | 23 | 23 | 23 |
| Weight | [kg] | 2,2 | 3 | 3,5 | 3,4 | 3,8 | 4,4 | 5 |
Downloads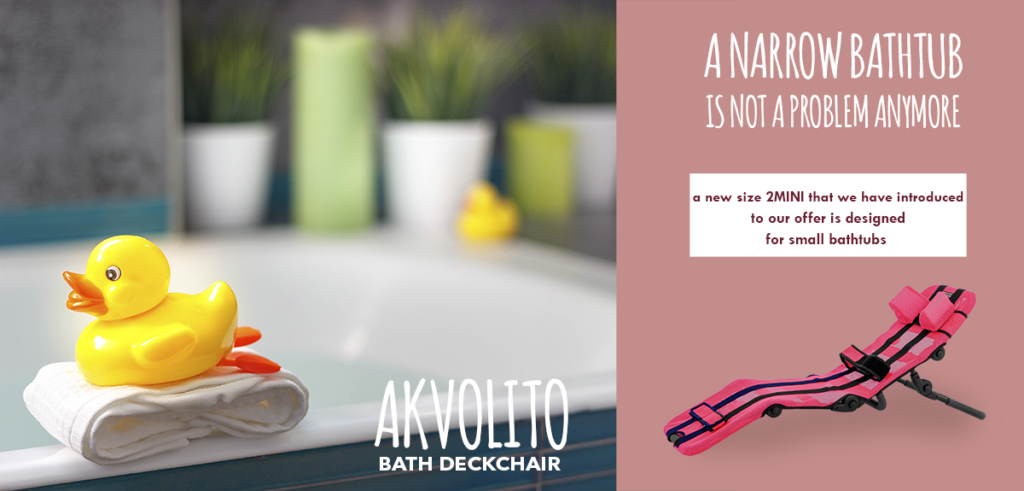 AVAILABLE COLOURS