Back support and posture corrector 2 in 1 AM-WSP-06
The treatment of the Scheuermann's disease includes prevention of increasing disability of posture by rehabilitation and relieve or stabilize thoraco-lumbo-sacral part of spine with our brace AM-WSP-06.
SPECIAL FEATURES
| | |
| --- | --- |
| | TLSO BRACE |
| | I CLASS MEDICAL PRODUCT |
| | SKIN FRIENDLY |
| | BREATHABLE |
| | ECOLOGICAL |
| | INNOVATIVE |
| | 2 in 1 |
PURPOSE OF USE
Scheuermann's disease
spondylolisthesis
pars fracture
other spine fractures
spine joints inflammation
damages of back and paraspinal muscles
strains or sprains of thoracic-lumbar spine
WHAT IS SCHEUERMANN'S DISEASE?
Scheuermann's disease is a skeletal disorder of childhood. Scheuermann's disease describes a condition where the vertebrae grow unevenly with respect to the sagittal plane, so the posterior angle is often greater than the anterior. Such a growth results in the wedging shape of the vertebrae, causing kyphosis.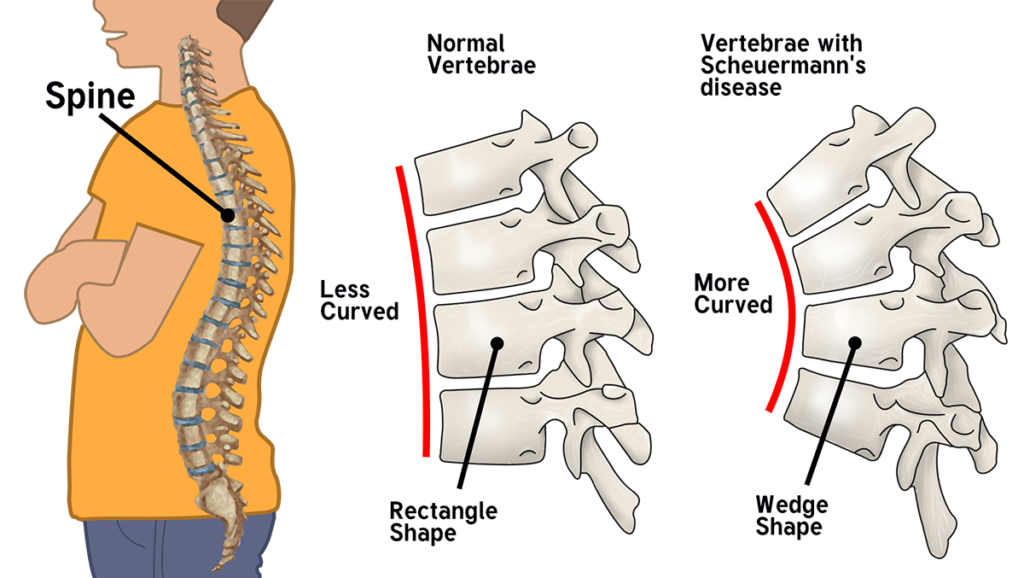 Children who suffers from Scheuermann's disease feel pain which is caused by thoracic kyphosis and enhanced compensation of cervical lordosis. The treatment of the disease includes prevention of increasing disability of posture by rehabilitation and relieve or stabilize thoraco-lumbo-sacral part of spine with our brace AM-WSP-06.
HOW DOES AM-WSP-06 WORK?
AM-WSP-06 consists of two parts: an abdominal belt and a frame. The frame was equipped with anatomically shaped steels which cover the thoraco-lumbo-sacral part of spine. The brace stabilizes vertebrae and offloads the structures near spine. Special shoulder pads works as a posture support – they pull down shoulder blades and impose straight position.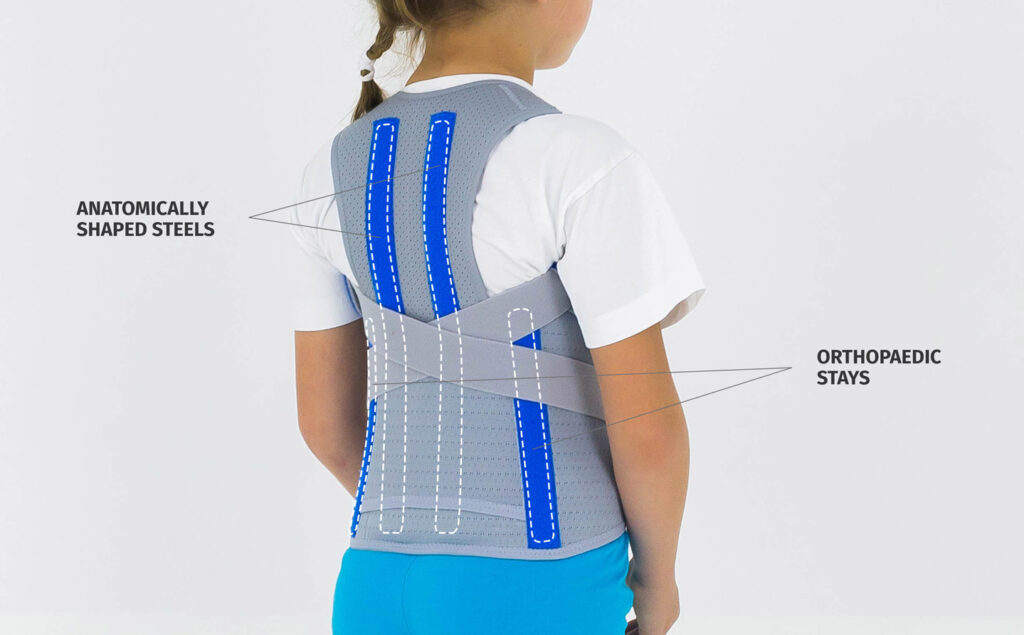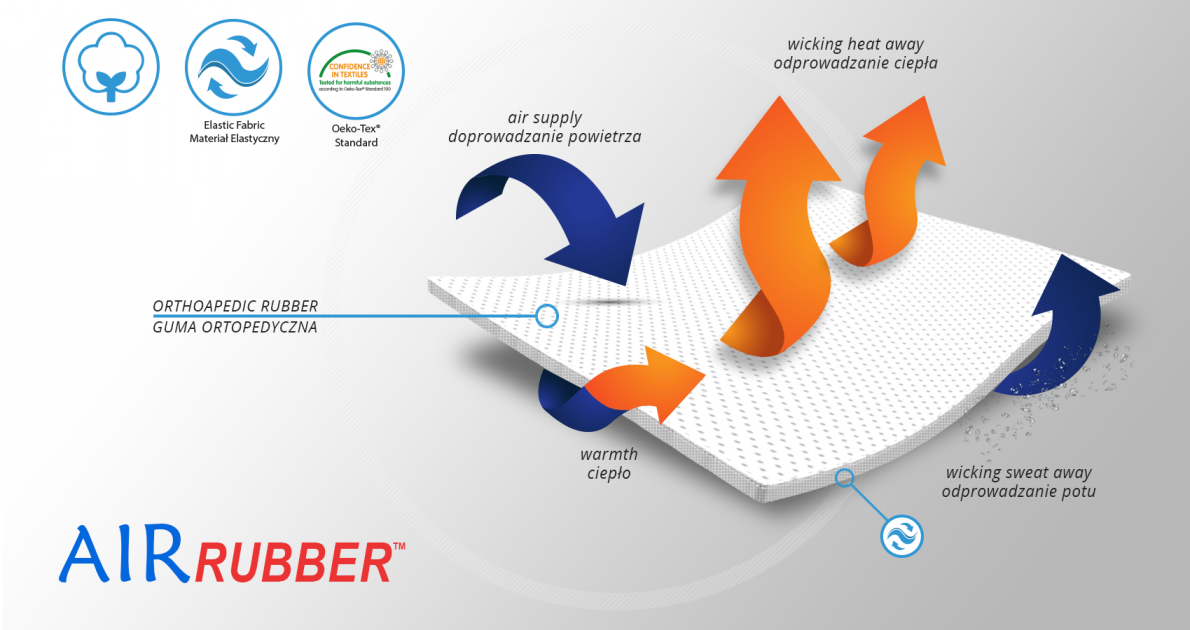 AirRubber™ has unidirectional elasticity and it's breathable. This lamination is perforated. Between the braids air flows freely and skin can breathe. In addition in high compression, these rubber braids provide a gentle massage for skin. Our orthopedic rubber is very friendly for skin.
The belt is equipped with four anatomic shaped stiffenings that provide excellent stabilization of the whole body. There is a front wide fastening allowing for a free regulation of compression adequate to children's requirement.
The frame of AM-WSP-06 that is installed to abdominal belt was made of innovative medical fabric called AirSanmed.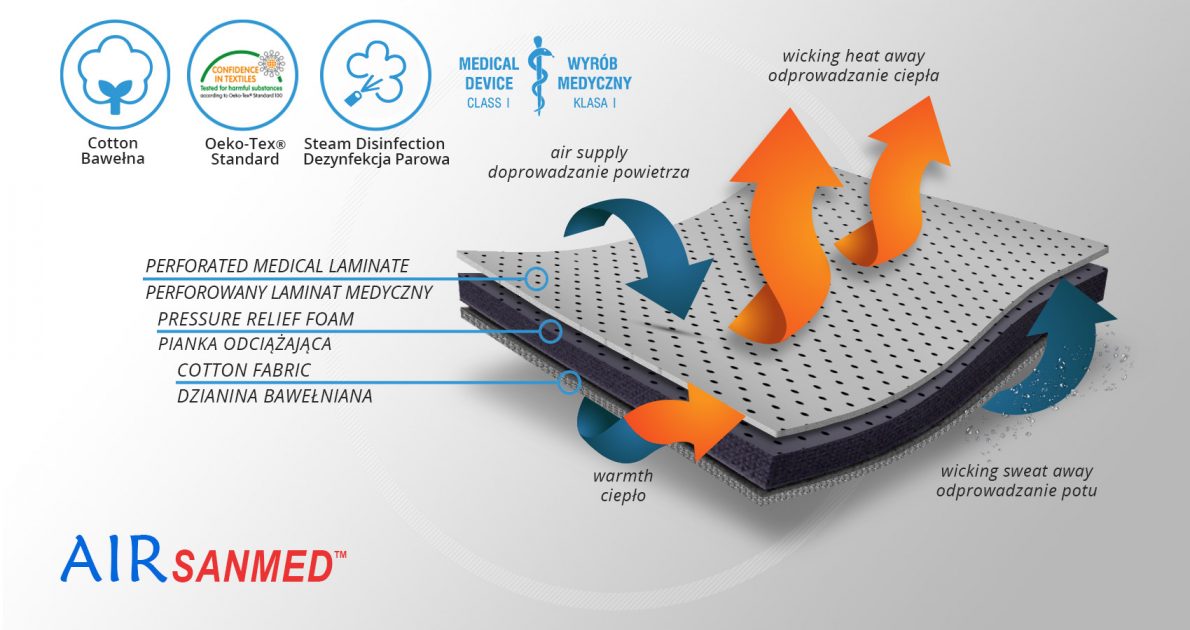 AirSanmed™ isn't elastic what provides excellent stabilization. The skin has contact with cotton terry with Oeko-Tex Standard 100 certificate. There is semi-rigid perforated foam EVA inside that protect the skin against the metal splints influence. External side of the fabric is perforated medical laminate with antibacterial properties of Silver Zeolite. It provides long-term efficacy and prevents the most dangerous infectious microorganisms such as MRSA and E.coli. AirSanmed™ is in accordance with Health Minister`s ordinance of 3 November 2004 and Council Directive 93/42/EWG of 14 June 1993.
AirSanmed perfectly offloads aluminium steels that are placed inside the frame. Moreover, thanks to the lack of elasticity, it stabilizes the vertebrae, ligaments and paraspinal muscles.
A set of shoulder pads are additionally installed on the belt. Shoulder pads have anatomic shape and they are equipped with offloading paddings preventing the skin from abrasions. They extort the correct position on the child. Furthermore, the shoulder pads has X-shape on the back, so they provide an additional compression on the steels preventing from its further deformation.
Available sizes
Table A
Size
Distance from Th3 to the coccyx
Typical age
How to measure
I
30 – 34 cm
2 – 4 years
II
34 – 39 cm
4 – 6 years
III
39 – 43 cm
6 – 12 years
Table B
Size
Waist circumference
Typical age
How to measure
1
50 – 60 cm
2 – 6 years
2
60 – 70 cm
6 – 12 years
It is available to match different sizes from part A and B
Size
Total height of the lower part of the brace
Back
Front
1
19 cm
12 cm
2
21 cm
14 cm